Why Paintball Action
Special Discounts
Group Packages
Challenge Yourself
Seriously good Fun
Develop Team Skills
Test Your Skills
Bring Your Friends
Great Action Game
Contact Info
Paintball Action Perth
Lot 50 (No. 305) Boomerang Road Oldbury

Perth

,

WA

6000
Phone:

0408 912 124

hoey@iinet.net.au
Welcome To Paintball Action Perth - Perth's Premier Paintbal Venue!
Are you ready for the most fun ? and a great day out?
Paintball Action Perth
Paintball Action Perth is Perth's friendliest Paintball venue. Come and experience the best paintball action fun you can have at Boomerang Road Oakford, just 25 minutes south of Perth (just off the Kwinana Freeway).
From the Kwinana freeway take the Thomas Road exit heading east towards Armadale, then right onto King Road, and right onto Boomerang Road. We are on the left hand side Lot 50 (301 Boomerang Road). Please keep speed to a minimum on the gravel road to minimise dust.
From its humble beginnings in 1981, Paintball has experienced phenomenal growth. It is now played world-wide in almost 200 countries by an estimated 40 million people. Paintball was first to operate in Western Australia in 1992. The sport has since grown , and became legalized in 2005. Paintball Action Perth is proud to be involved in this vibrant industry. Paintball is a sport played by people from all professions and lifestyles. Sporting teams, church groups and entire families play Paintball. Paintball is a character building sport. Players learn the importance of teamwork and gain self-confidence whilst developing leadership abilities. Companies arrange Paintball outings for their employees and find that it builds staff morale and improves team spirit. Paintball offers an exciting alternative to dull training seminars and everyday sales meetings.
Paintballing is like a living chess game. Rather than speed and strength, Paintballing requires strategy and imagination. Women compete equally with men. Although there are many formats, the typical game consists of two teams and runs for about 10 to 30 minutes depending on the size of the field and the number of players. The object of the game is to capture the other teams flag whilst protecting your own. You also try to eliminate opposing players by tagging them with a paintball expelled from a special gas powered marker. Referees enforce safety and game rules. Win or lose, everyone has a good time and there is always the next game waiting for you.
Paintball Markers:
Paintball Markers are a semi auto Paintball markers. The markers themselves are really only high tech blowguns and are specifically designed to propel a paintball. They are powered by carbon dioxide and at maximum range can fire a paintball about 50 metres. The markers come with a 200 paintball capacity vertically mounted hopper. This state of the art paintball marker will deliver paintballs on target with great accuracy. The noise produced from a compressed Gas paintball marker is 72 dba at I metre from the source, which is much less then a lawn mower. Overall the noise is similar to tennis or hockey ,with the loudest noise being from the shouting of team members
Goggles:
For safety reasons paintball players must always wear approved goggles to protect their eyes during a game and whilst in other areas where shooting is permitted such as a target range. . Paintball goggles were originally designed for motocross and have been adapted for use in the sport of paintball to give the best possible all round protection whilst still allowing a clear field of vision. Insurance statistics prove that Paintball is one of the safest sports around.
Paintballs:
A paintball is a round, thin-skinned gelatine capsule with coloured liquid inside that is not really paint but vegetable food colouring. Paintballs look similar to bath oil beads and the fill is made of non-toxic, biodegradable components such as sorbitol (a sweetener) and glycol (a wax). Paintball is an environmentally safe sport as the paintballs biodegrade naturally given typical environmental conditions in a matter of days.
Corporate Team Building Providing
Team Building
Comradeship
Morale boosts
Self Esteem building
Leadership
Decision making
Co-ordination and exercise.
Paintball offers a safe and memorable way for companies to treat their employees to a good time, as well as being a means to turn managers into leaders and groups into teams.
Worldwide, more and more companies are playing Paintball as a way of building effective teams. Paintball works because it is a challenging and demanding activity that requires teamwork, communication, strategy and tactics.
Paintball is also acclaimed as one of the most effective forms of stress relief and is used extensively in the US, Europe and Scandinavia for corporate situations to boost teamwork. Many companies recognise teambuilding as an important factor in providing service and remaining competitive.
Offers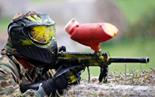 Get your deposit in early and you could qualify for our early-bird specials with extra paintballs
Game Organiser's can receive up to 300 paintballs for FREE. See the table below.
Packages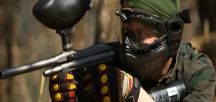 Game session 4 hours includes 800 paintballs plus.
(early bird deposit 100 extra paintball per person)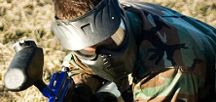 Game Session 4 hours Includes 600 paintballs plus.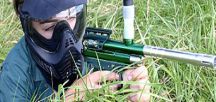 Game session 4 hours includes 400 paintballs plus.